FOR IMMEDIATE RELEASE
May 18, 2023
Contact: Kevin McGuire, 202-538-2386 (mobile) Kevin.McGuire@mail.house.gov
WASHINGTON, DC – Yesterday, Congresswoman Nanette Barragán (CA-44) joined the Oversight and Accountability Subcommittee on Government Operations and the Federal Workforce hearing with United States Postal Service (USPS) Postmaster General Louis DeJoy. Barragán waived on to the House Oversight subcommittee hearing to question DeJoy about ongoing unsatisfactory working conditions for federal employees at the Carson International Processing Facility (Carson Post Office).
Early this year, Barragán was made aware of freezing temperatures and the lack of an HVAC system in the facility by a National Postal Mail Handlers Union Local 303 representative. Barragán visited the facility and joined the employees outside of the facility to protest the working conditions. After repeated outreach to USPS officials and not receiving an adequate response about the issue, Barragán sent a letter to Postmaster General DeJoy where she raised her concerns and requested a call with him to discuss the issue.
When asked by Congresswoman Barragán at yesterday's House Oversight hearing what he would do to fix the ongoing issues USPS employees faced in Carson, Postmaster General DeJoy replied that there are USPS facilities across the country with unsatisfactory working conditions, and "we have what we have." Barragán responded that "The postal workers who serve our country deserve better."
"Postmaster DeJoy's apparent disregard for the conditions in the Carson facility are not what these workers, or the American people, deserve," said Rep. Barragán. "For months, postal workers in Carson sorted mail in temperatures as low as 28 degrees, and despite numerous requests and outreach the Postal Service has failed to fix the issue.  I will continue to fight to make sure these workers are provided safe and decent conditions to work. Postmaster DeJoy needs to act on his commitment to deliver his best effort on behalf of the men and women of the U.S. Postal Service. His current efforts fall way short of that commitment."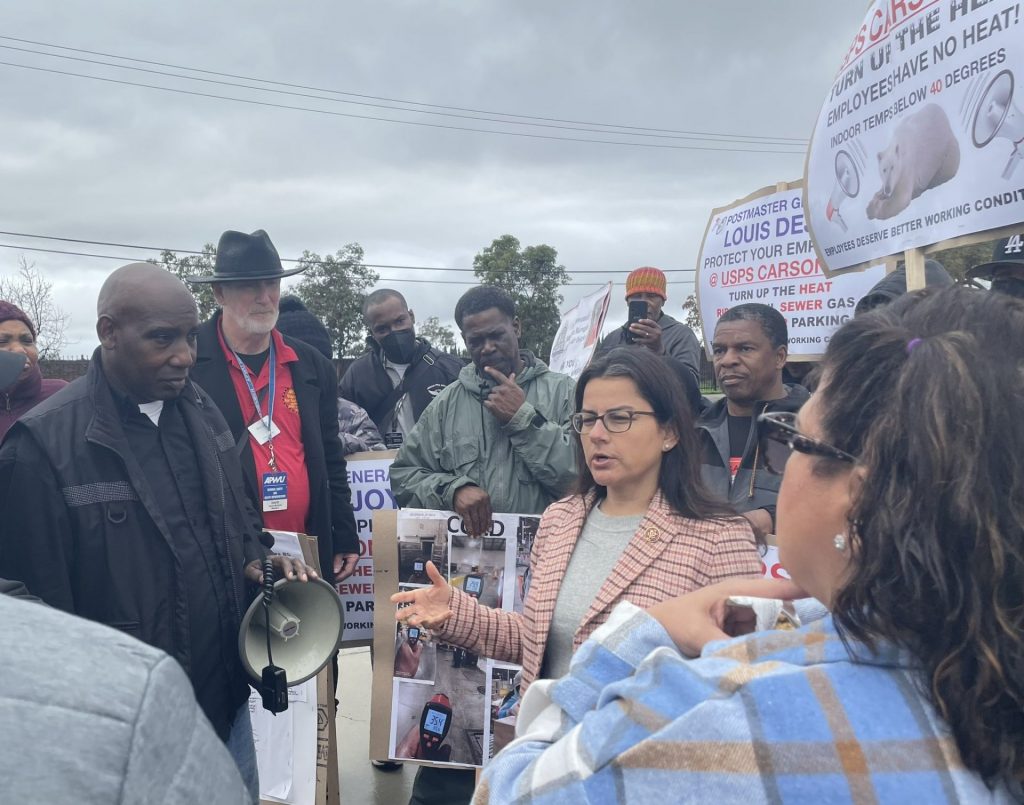 The Congresswoman also met twice with senior leadership from the USPS Processing and Maintenance Operations Department. Both meetings failed to produce a solution to the temperature problem. However, the team did fix the sanitation issues.
Congresswoman Barragán is committed to worker safety and will continue to press USPS and Postmaster General DeJoy to fix this facility as soon as possible.
###
Nanette Diaz Barragán is proud to represent California's 44th Congressional District, which includes the communities of Bellflower, Carson, Harbor City, Harbor Gateway, Lakewood, Long Beach, Lynwood, Paramount, Rancho Dominguez, San Pedro, South Gate, West Carson, and Wilmington. She serves as Chair of the Congressional Hispanic Caucus, and on the House Energy and Commerce Committee and Health, Environment, Manufacturing, and Critical Minerals Subcommittees.