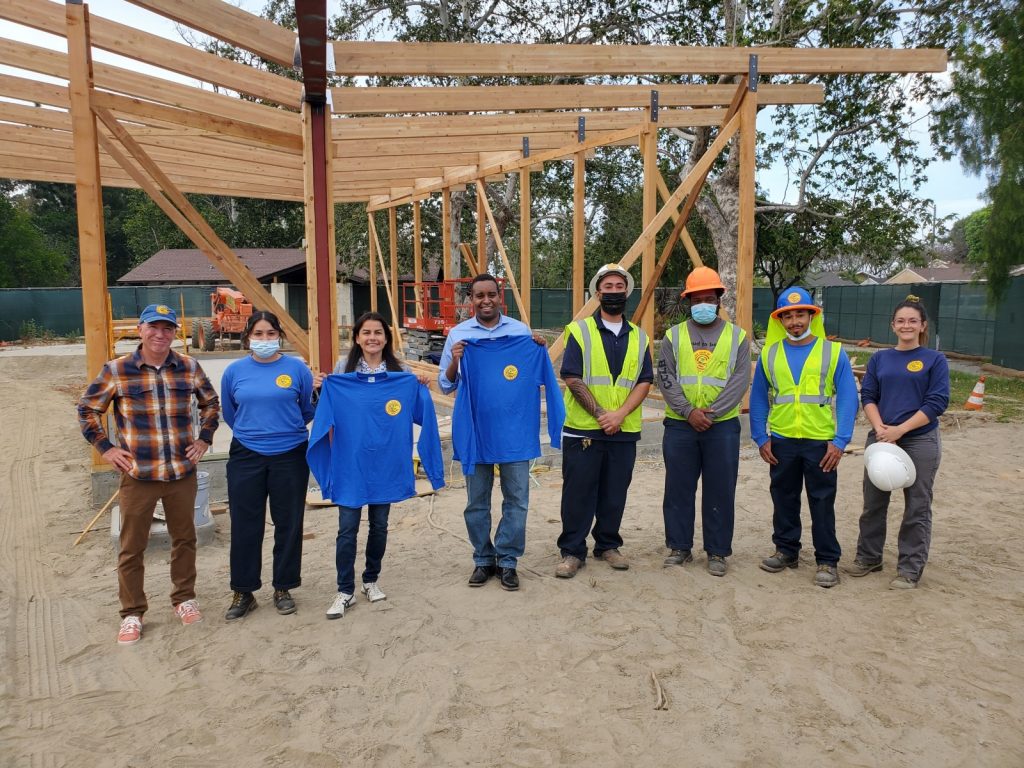 FOR IMMEDIATE RELEASE
19 April 2022
San Pedro, CA – On Monday, April 18, Congresswoman Nanette Diaz Barragán (CA-44) hosted Congressman Joe Neguse (C0-02) in her district where they spent time with the Los Angeles Conservation Corps (LACC) and the Conservation Corps of Long Beach (CCLB) to discuss ongoing Conservation Corps activities in California's 44th District to support environmental justice and jobs for local youth. The members of Congress visited a vacant three-acre lot in Compton that has been transformed into a park space and community garden and DeForest Park in Long Beach where an Environmental Education Center is currently under construction.
The Conservation Corps are environmentally focused organizations with programs designed to empower young people through development, employment, and education opportunities. President Biden's proposed Fiscal Year 23 budget includes proposals to expand the work of local and state Conservation Corps through the creation of a Civilian Climate Corps that would employ thousands of young people around the country to address the threat of climate change.
"The Los Angeles and Long Beach Conservations Corps provide critical job training and workforce development opportunities for young people to advance environmental justice solutions in our communities," Congresswoman Nanette Diaz Barragán said. "Thank you, Congressman Neguse, for joining me to uplift their excellent work to improve access to urban parks, community gardens, and open spaces in Compton and Long Beach. Together Congressman Neguse and I are leading efforts in Congress to increase funding for urban parks and environmental stewardship through the Parks, Jobs, and Equity Act and the 21st Century Conservation Corps Act."
"As the Chair of the National Parks, Forests, and Public Lands Subcommittee, closing the outdoor access gap for all Americans is an issue of great importance to me. I was proud to join with Congresswoman Barragán in introducing the bipartisan Parks, Jobs and Equity Act last year, and I stand here today, joined by all these amazing members of California's Conservation Corps, ready to reaffirm my commitment to this critical piece of legislation," said Congressman Neguse. "This bill will fund more than 1,000 new or upgraded local parks, create jobs and invest in our environment. As a longtime supporter of a reimagined 21st Century Civilian Conservation Corps, I am thrilled to see how this generation is getting to work and making public lands access equitable nationwide."
Congresswoman Barragán and Congressman Neguse visited Compton Creek Natural Park, formerly a vacant three-acre lot behind Washington Elementary School that the LACC transformed into a natural habitat, park space, and community garden. During the visit, the group discussed the design and development of the park, as well as opportunities offered by the LACC to residents of California's 44th District in Compton, Watts, Willowbrook, and Carson.
"Young adults from these neighborhoods built and care for this beautiful park and it is only the beginning of what they want to do to lift up the quality of life and the climate resilience of the surrounding areas," said Wendy Butts, CEO of Los Angeles Conservation Corps. "They inspire me every day to look for more opportunities for them to develop their skills and make their mark. With the support of leaders in Washington like Congresswoman Barragan and Congressman Neguse, innovative ideas like a national Civilian Climate Corps could learn from these young people and their accomplishments and directly support their climate action in urban areas across the country."
Next, Congresswoman Barragán and Congressman Neguse visited with the CCLB at DeForest Park to learn more about their ongoing efforts to construct an Environmental Education Center, and discuss the CCLB's larger efforts to create additional open space along the lower Los Angeles River.
"Once the DeForest Park Environmental Education Center is up and running this coming fall, young people of the Conservation Corps of Long Beach will have a base of operations to further the greening and stewardship along the Lower LA River," said Dan KnappExecutive, Director|CEO of Conservation Corps of Long Beach. "We couldn't be prouder of our corpsmembers and they are so excited and eager to get started! With continued support from National Leaders like Representatives Barragan and Neguse, we look forward to serving more youth and developing resilient and safe communities."
###