Bill Will Support Minority Health Disparities Research and Scientific Workforce Diversity
FOR IMMEDIATE RELEASE
March, 18, 2022
Washington D.C. – Today, Congresswoman Nanette Barragán was at the White House, in the Oval Office, as President Joseph R. Biden signed her John Lewis National Institutes on Minority Health and Health Disparities Research Endowment Revitalization Act into law.
In April 2021, the Congresswoman's bill passed the House of Representatives on voice vote. Prior to that, in March 2021, the Senate version of her bill, led by Senator Bill Cassidy (R-LA), passed by unanimous consent. The bill, now law, will increase investments into schools conducting critical minority health and health disparities research and diversity in the scientific workforce
The Research Endowment Program at the National Institute on Minority Health and Health Disparities (NIMHD) provides funding to the endowments of academic institutions across the country, such as Charles R. Drew University of Medicine and Science in California's 44th Congressional District. This bill will once again allow for current and former NIMHD or Health Resources and Services Administration Centers of Excellence to receive research endowment funding.
"I was thrilled today to stand in the Oval Office and to see my first standalone bill, the John Lewis National Institutes on Minority Health and Health Disparities Research Endowment Revitalization Act, signed into law by President Biden. This kid from the Harbor Area of Los Angeles never dreamed that there would be a day I'd be in the White House to see the President sign a bill that I introduced. A bill that is personal to me, as it address the issue of health disparities in communities of color, and issue that impacted the community I grew up in, and the communities that I represent now in Congress" said Congresswoman Barragán.
"This law moves us closer to ending the disparities in public health between minority communities and other Americans. We need to understand why people in minority communities are more likely to get certain illnesses, how we can prevent them, and why discrepancies exist in the first place among different communities – and the funding that will flow form this law will allow us to start answering these questions."
"These investments are not only about recovering from the pandemic, which has disproportionately impacted communities of color, but also improving our healthcare system for everyone and making sure our health care and scientific workforce that reflects the diversity of the American people. The increased funding will directly benefit schools like Charles R. Drew University, a leading historically Black graduate medical institution, in my district, and countless other minority academic institutions."
Congresswoman Barragán's speech from the floor of the House of Representatives yesterday on her bill being signed into law can be seen here.
"Congratulations to Representative Nanette Barragán for her leadership and tireless efforts to get this important legislation across the finish line. Charles R. Drew University of Medicine and Science will benefit tremendously from this legislation to revitalize NIMHD's research endowment program thorough competitive grants that help us strengthen the institution's research infrastructure." – Dr. David Carlisle, President of Charles R. Drew University in Los Angeles
The John Lewis NIMHD Research Endowment Revitalization law:
Restores eligibility and will increase investments to minority academic institutions and will:
promote minority health and health disparities research capacity and infrastructure.
increase the diversity and strength of the scientific workforce.
enhance the recruitment and retention of individuals from underrepresented backgrounds in the scientific workforce.
The eligible institutions are:
Charles R. Drew University of Medicine and Science
Morehouse School of Medicine
Creighton University School of Medicine
Dillard University
Florida A&M University, College of Pharmacy and Pharmaceutical Sciences
Florida International University
University of Hawaii at Manoa
Howard University College of Pharmacy
University of Kansas Medical Center
Meharry Medical College
University of Montana School of Pharmacy and Allied Health Sciences
University of New Mexico School of Medicine
University of North Texas Health Science Center
University of Puerto Rico School of Dentistry
San Diego State University
State University of New York (SUNY) at Albany
SUNY Downstate Medical Center
Tuskegee University, College of Veterinary Medicine
Xavier University of Louisiana, College of Pharmacy
The full text of the bill is here.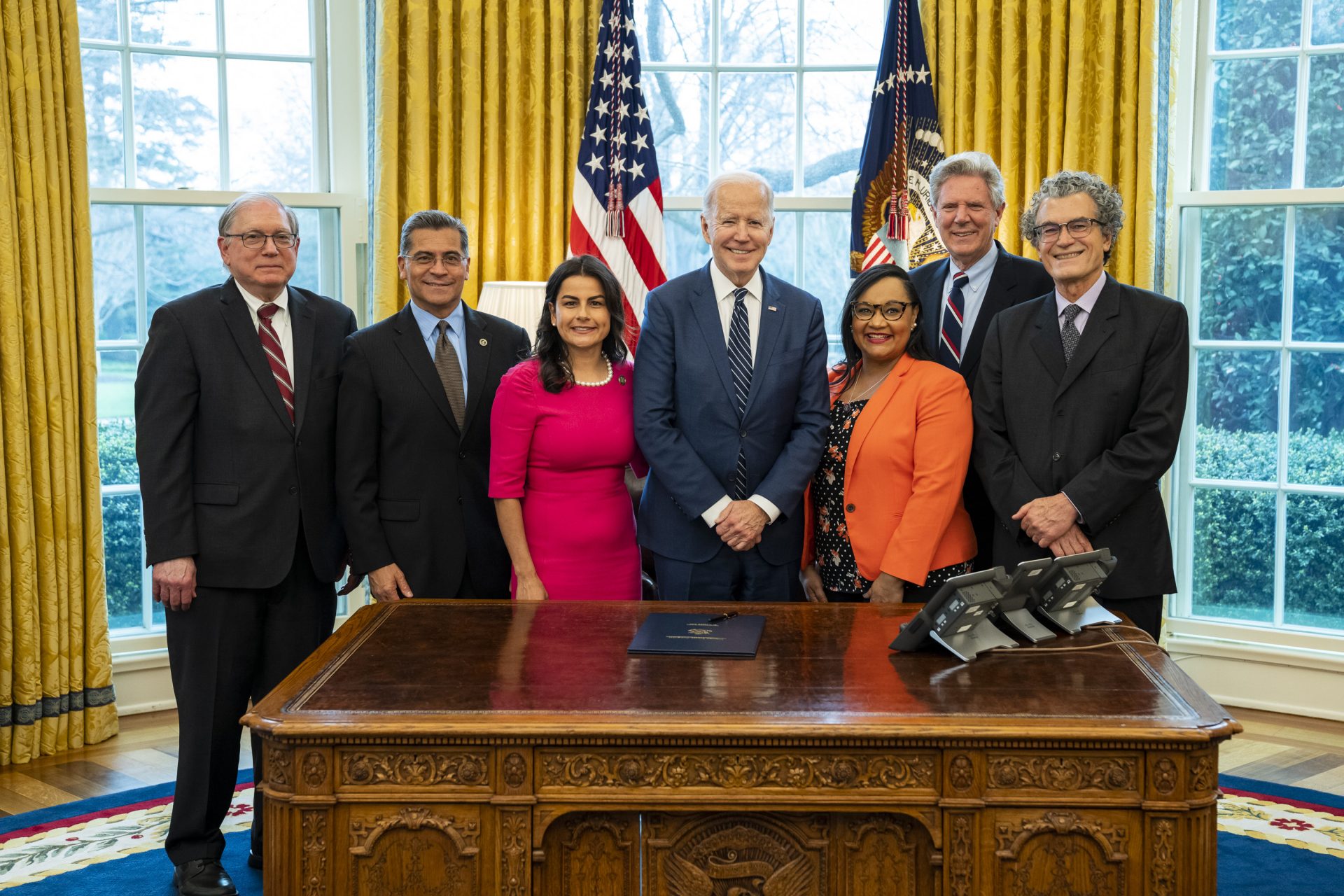 ###
Nanette Diaz Barragán is proud to represent California's 44th Congressional District, which includes the communities of Carson, Compton, Florence-Firestone, Lynwood, North Long Beach, Rancho Dominguez, San Pedro, South Gate, Walnut Park, Watts, Willowbrook and Wilmington. She serves as chairwoman of the House Homeland Security Committee's Subcommittee on Border Security.