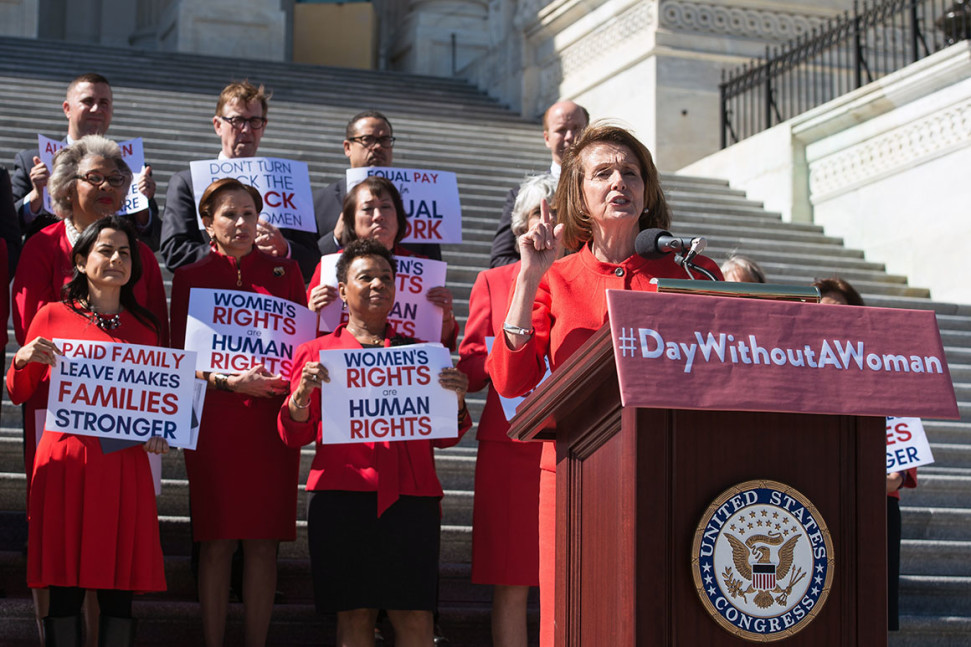 By BRIANNA GURCIULLO and SARAH FERRIS 11/07/2018 01:33 AM EST Updated 11/07/2018 02:25 AM EST
A surge of female candidates produced a record-breaking number of women elected to serve in the next Congress, shattering the prior record of 107 currently at the Capitol.
While races are still being called, 103 women have won election or reelection across the country so far. They join 10 women in the Senate who weren't up for reelection this year.
More women than ever filed to run for both chambers and won primary elections, according to the Center for American Women and Politics at Rutgers.
President Donald Trump's election and the #MeToo movement are considered factors in the rise in female contenders, at least among Democrats.
As of Tuesday, 185 Democratic women and 52 Republican women were running for the House. Among female Senate candidates, 15 were Democrats and eight were Republicans.
A historic number of women ran and won.
CAWP has attributed the disparity between Republican and Democratic female candidates to recruitment and infrastructure.
Women elected or reelected to serve in the House:
Alma Adams (D-N.C.)
Cindy Axne (D-Iowa)
Nanette Barragan (D-Calif.)
Karen Bass (D-Calif.)
Joyce Beatty (D-Ohio)
Eddie Bernice Johnson (D-Texas)
Suzanne Bonamici (D-Ore.)
Susan Brooks (R-Ind.)
Julia Brownley (D-Calif.)
Cheri Bustos (D-Ill.)
Kathy Castor (D-Fla.)
Liz Cheney (R-Wyo.)
Judy Chu (D-Calif.)
Katherine Clark (D-Mass.)
Yvette Clarke (D-N.Y.)
Angie Craig (D-Minn.)
Sharice Davids (D-Kan.)
Susan Davis (D-Calif.)
Madeleine Dean (D-Pa.)
Diana DeGette (D-Colo.)
Rosa DeLauro (D-Conn.)
Suzan DelBene (D-Wash.)
Val Demings (D-Fla.)
Debbie Dingell (D-Mich.)
Anna Eshoo (D-Calif.)
Veronica Escobar (D-Texas)
Abby Finkenauer (D-Iowa)
Lizzie Fletcher (D-Texas)
Virginia Foxx (R-N.C.)
Lois Frankel (D-Fla.)
Marcia Fudge (D-Ohio)
Tulsi Gabbard (D-Hawaii)
Sylvia Garcia (D-Texas)
Kay Granger (R-Texas)
Debra Haaland (D-N.M.)
Vicky Hartzler (R-Mo.)
Jahana Hayes (D-Conn.)
Kendra Horn (D-Okla.)
Chrissy Houlahan (D-Pa.)
Sheila Jackson Lee (D-Texas)
Pramila Jayapal (D-Wash.)
Marcy Kaptur (D-Ohio)
Robin Kelly (D-Ill.)
Ann Kirkpatrick (D-Ariz.)
Brenda Lawrence (D-Mich.)
Barbara Lee (D-Calif.)
Debbie Lesko (R-Ariz.)
Zoe Lofgren (D-Calif.)
Nita Lowey (D-N.Y.)
Elaine Luria (D-Va.)
Carolyn Maloney (D-N.Y.)
Doris Matsui (D-Calif.)
Betty McCollum (D-Minn.)
Ann McLane Kuster (D-N.H.)
Cathy McMorris Rodgers (R-Wash.)
Grace Meng (D-N.Y.)
Carol Miller (R-W.V.)
Gwen Moore (D-Wis.)
Debbie Mucarsel-Powell (D-Fla.)
Stephanie Murphy (D-Fla.)
Grace Napolitano (D-Calif.)
Alexandria Ocasio-Cortez (D-N.Y.)
Ilhan Omar (D-Minn.)
Nancy Pelosi (D-Calif.)
Chellie Pingree (D-Maine)
Ayanna Pressley (D-Mass.)
Kathleen Rice (D-N.Y.)
Martha Roby (R-Ala.)
Lisa Rochester (D-Del.)
Lucille Roybal-Allard (D-Calif.)
Linda Sanchez (D-Calif.)
Mary Scanlon (D-Pa.)
Jan Schakowsky (D-Ill.)
Terri Sewell (D-Ala.)
Donna Shalala (D-Fla.)
Mikie Sherrill (D-N.J.)
Abigail Spanberger (D-Va.)
Jackie Speier (D-Calif.)
Elise Stefanik (R-N.Y.)
Rashida Tlaib (D-Mich.)
Norma Torres (D-Calif.)
Lori Trahan (D-Mass.)
Lauren Underwood (D-Ill.)
Nydia Velazquez (D-N.Y.)
Ann Wagner (R-Mo.)
Jackie Walorski (R-Ind.)
Debbie Wasserman Schultz (D-Fla.)
Maxine Waters (D-Calif.)
Bonnie Watson Coleman (D-N.J.)
Jennifer Wexton (D-Va.)
Susan Wild (D-Pa.)
Frederica Wilson (D-Fla.)