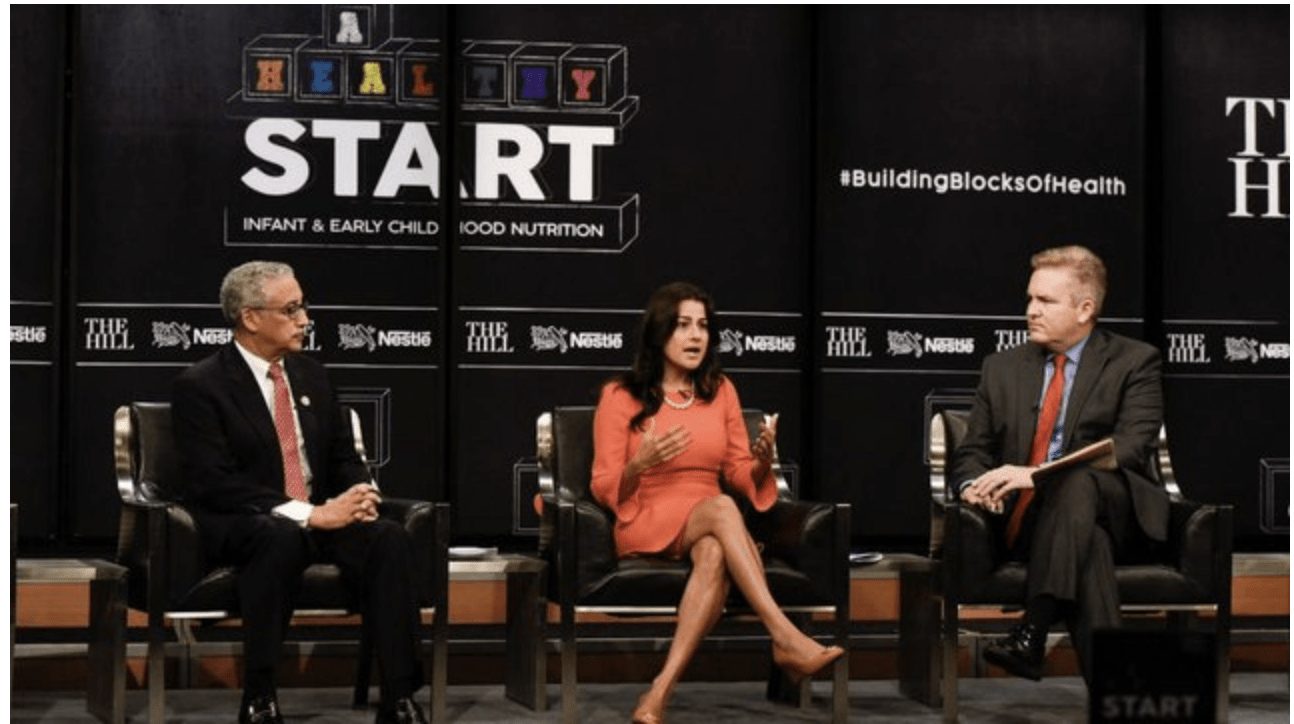 Nutrition experts and lawmakers came together on Wednesday to discuss new government dietary guidelines, which they said would boost infant and early child nutrition, at an event hosted by The Hill at Washington, D.C.'s Newseum.
The U.S. Department of Agriculture's chief on nutrition touted the importance of "science-based" guidelines for child nutrition.
"Dietary guidelines are important for everybody that's involved in the food sector," said Brandon Lipps, USDA Administrator of Food and Nutrition Services, at the event sponsored by Nestlé.
Lipps said the government could play a key role in encouraging healthy choices at a very young age.
An upcoming update to the government's dietary guidelines will include recommendations for pregnant women as well as babies and infants up to the age of two for the first time.
Democratic Reps. Bobby Scott (Va.) and Nanette Barragán (Calif.) also joined the discussion with The Hill Editor in Chief Bob Cusack on the role government can play in improving nutrition science and accessibility to healthy foods.
Scott said school nutrition should be an issue that appeals to both sides of the aisle and called on lawmakers to better incorporate new research in policy decisions.
"If we can get to the issues, I think we can make some progress," Scott said.
Barragán said that government has a role in making healthy foods accessible, regardless of a person's socioeconomic status. She also criticized the Trump administration, saying it could do more to promote nutrition.
"This is very controversial, but the access to healthy foods in today's day and age, we have an administration that wants to go back to canned foods instead of healthy fruits and vegetables," said Barragán. "That is something government has a role in."
Geraldine Henchy, the Food Research and Action Center's director of nutrition policy and early childhood nutrition programs, said the new guidelines would be an improvement. But she said it was important to remember the many programs such as the Supplemental Nutrition Assistance, the government's food stamp program, and the Women and Infant Feeding Program, that are already in place.
"If we look at those, we really see a lot of work going on trying to maximize those programs' access to them. So that everyone who really needs them can get them."
Yael Lehmann, president and CEO of The Food Trust, said it is important that food and nutrition education is accessible to families. And she expressed concerns that immigrant families might be reluctant to seek public help.
A proposal being considered by the administration would make it harder for immigrants to gain citizenship if they benefitted from welfare programs, including Social Security or ObamaCare.
"I'm really very, very nervous about the Administration putting forward this message of fear around receiving basic public benefits," said Lehmann.