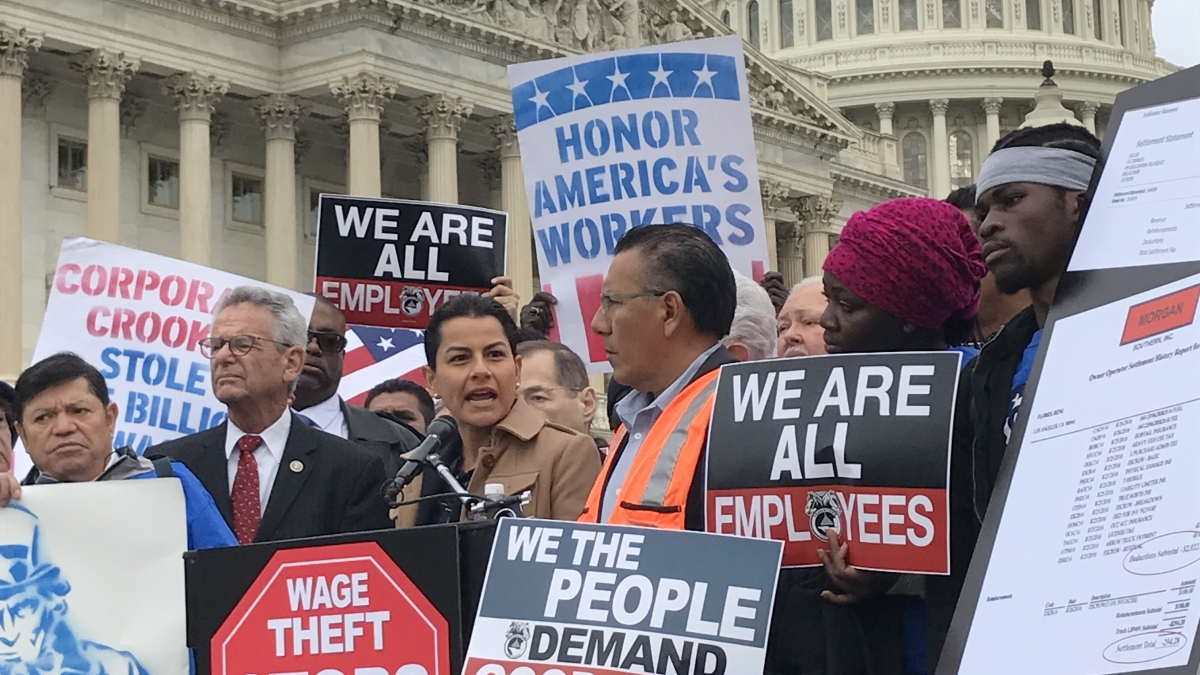 For immediate release
Contact: Dave Perera
(202) 770-7899
dave.perera@mail.house.gov
Reps. Barragán, Napolitano, Nadler & Lowenthal Stand with Truckers, Introduce the Port Drivers' Bill of Rights Act and the Clean Ports Act of 2017
WASHINGTON, D.C.—Today, Rep. Nanette Diaz Barragán (D-San Pedro) joined three Democratic colleagues, port truck drivers and representatives from the International Brotherhood of Teamsters to announce the introduction of the Port Drivers' Bill of Rights Act (H.R. 4144) and the Clean Ports Act of 2017 (H.R. 4147).
"What's happening to these truck drivers amounts to indentured servitude. It goes beyond wage theft. Some workers—many are immigrants who speak little English—end up owing money at the end of the week," said Rep. Barragán.
"My cousin is a truck driver, and I remember him looking at his paycheck to figure out why he got so little money. Sometimes these truck driver are earning less than the minimum wage," she added.
"Hundreds of port truck drivers are being forced into working as independent operators as a way for their employer to pay them below minimum wage and deny them benefits, creating an unlivable wage for them and their families," said Congresswoman Napolitano. "These drivers are compelled to lease trucks at prices they cannot afford. It is unthinkable that companies can continue to get away with this scheme to underpay hard working truck drivers. My Port Drivers' Bill of Rights Act and Congressman Nadler's Clean Ports Act are important measures that we hope will restore justice and dignity to truck drivers and their families.  I thank him and all of our colleagues for fighting to protect the wages, rights, and working conditions of truckers across the country."
"An active port is imperative for the economic vitality of our cities and regions, and to maintain a diverse middle class. But we must ensure that all those who work at the port are treated fairly and earn a decent wage, and that those who live near ports do not bear the brunt of pollution and inefficient goods movement," said Congressman Nadler. "I am hopeful that my colleagues on both sides of the aisle can come together on these important issues. President Trump regularly touts his affinity and sympathy for hard working Americans who have been treated unfairly, and there should be no mistaking the hardships faced by port truck drivers and those living near port areas. It is long past time we did something about it."
"In my community, we hear story after story of drivers who work two shifts only to go home with pennies. Drivers who are intimidated, threatened, and forced by trucking companies to violate hours of service rules over and over again," said Congressman Lowenthal. "I'm proud to support legislation that will ensure that port drivers have basic rights, and at the same time make it clear—once and for all—that port authorities can regulate truck operations as part of their environmental efforts. This is a common-sense solution that is good for the truckers and good for the ports."
The members of Congress stood proudly with over a dozen drivers and advocates from the Ports of Los Angeles, Long Beach, New York, and New Jersey, who traveled to Washington to bear witness to the injustice they and their families have endured as a result of a broken employment system.
"I believe every worker has a right to earn a living wage, but after months and months of working without earning a salary, I wind up owing the company money. You can imagine the pain when I come home, and my kids ask 'let's go to the movies' and I don't have a cent to take my children," said Rene Flores, Ports of Los Angeles/Long Beach, misclassified independent contractor fired after telling his story to USA Today. "This Christmas people will go to big companies — Walmart, Target, Costco – to buy gifts for their children. I wonder if they think about the sacrifice that goes into those gifts. I don't have a cent to buy my own children presents. What is a day of joy for most, is a day of sadness for me. This is supposedly a country of free speech, but we are still slaves to these companies."
"This injustice affects all of us. It affects our nation. Our port drivers–our family–have taken on the burden for far too long," said Daniel 'Seko' Uaina, truck driver, Ports of Los Angeles/Long Beach, misclassified independent contractor. "Drivers even have to pay for a spot to keep the truck at the company – the truck that we lease FROM the company. Our forefathers made sure that we wanted tomorrow to be better. So let's make tomorrow better, for all the generations coming behind us. We need to stop this now."
Fred Potter, Vice President-at-Large of the International Brotherhood of Teamsters, and Director of the Teamsters Port Division, voiced continued support of all truck drivers and their families, thanking them for persevering despite a system that has failed them, as recently exposed by USA Today's "Rigged" series by Brett Murphy.
"For years, port truck drivers across the country have been forced to work long hours, often exceeding maximum hours of service set by the U.S. to keep America safe, in order to pay the company to lease and maintain their truck," said Fred Potter. "The Teamsters are proud to support both the Port Drivers' Bill of Rights Act to create a Task Force to review the broken system and crack down on bad actors, and the Clean Ports Act to modernize Federal trucking rules to empower ports across America to clean the air, improve cargo efficiency, and mitigate community impacts without forcing drivers to bear the cost. We thank our champions in Congress for introducing them on behalf of our truck drivers and their families."
Background
An estimated 87 million Americans live in port adjacent communities which fail to meet federal air quality standards. Ports around the country are working toward improving these local conditions by creating environmental quality standards for the ships, terminal operators, railroads, and trucking companies that use their ports. The problem is that current federal law (the Federal Aviation Administration Authorization Act of 1994) limits the extent of what Ports can do to improve their local environment. This same federal law also allows trucking companies to avoid state and local wage laws in order to underpay and overwork their drivers. H.R. 4144 and H.R. 4147 aim to stop the exploitation of drivers and empower local ports to reduce environmental pollution, mitigate traffic congestion, and improve highway safety and improve efficiency, without putting the burden on the backs of the truck drivers.
The full video of this morning's press conference can be viewed on Congresswoman Napolitano's Facebook page: Facebook.com/RepGraceNapolitano.
###
Nanette Diaz Barragán is proud to represent California's 44th Congressional District, which includes the communities of Carson, Compton, Lynwood, North Long Beach, Rancho Dominguez, San Pedro, South Gate, Walnut Park, Watts, Willowbrook and Wilmington.