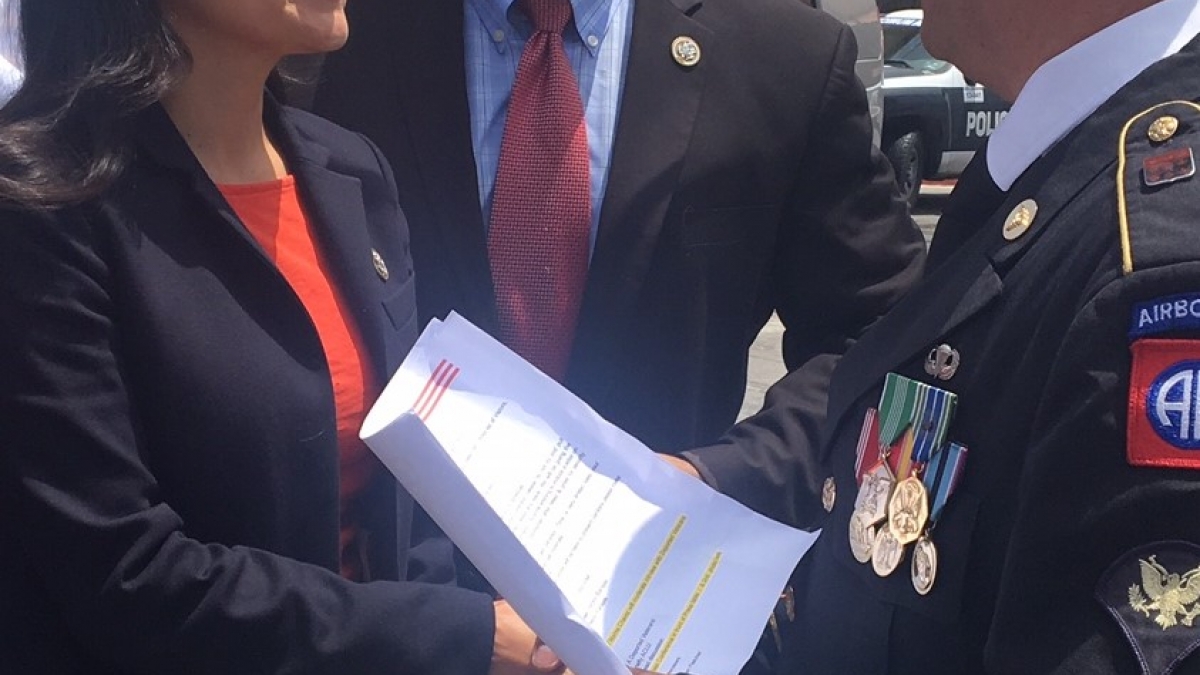 SAN PEDRO, CA – Rep. Nanette Diaz Barragán (CA-44), along with her colleagues, Reps. Juan Vargas (CA-51), Joaquin Castro (TX-20), Michelle Lujan Grisham (NM-01), Lou Correa (CA-46), Vicente Gonzalez (TX-15), Raul Grijalva (AZ-03), visited the Deported Veterans Support House in Tijuana, Mexico on June 3, 2017 and met with veterans who have been deported from the United States.
"It was heartbreaking to see my constituent, Hector Barajas from Compton, still proudly wearing his U.S. military uniform, but unable to live with his family in the country for which he fought," said Rep. Barragán.  "I am grateful to Governor Jerry Brown for issuing Hector a pardon.  I am working to do everything in my power to help Hector rightfully receive his U.S. citizenship."
Barajas served in the Army for 5 1/2 years. He had problems with substance abuse, served his time, but upon his release was deported to Mexico.  He now runs "The Bunker," or the Deported Veteran Support House, a shelter to help other veterans who have been deported.
"It was shocking to learn that veterans receive citizenship after dying while in active duty and deported veterans are flown back to the United States to be buried with full military honors upon their death.  Yet, the government will not allow them to live in the country for which they had fought," continued Barragán.
"These veterans have done their time.  They deserve to return home on their own two feet, not to return home in a box.
"Anyone who fights for the freedom of our country should be granted citizenship. Period.  Along with my colleagues in the Congressional Hispanic Caucus, I will continue to fight for our veterans and to make sure they know they are just as American as their brothers and sisters in uniform."
Naturalization used to be part of basic training, but the laws changed.  As of January 2017, there were 10,644 noncitizens currently serving in the U.S. military and an additional 11,524 noncitizens under reserve status. The greatest numbers of lawful permanent resident (LPR) service members come from the Philippines, Mexico, Jamaica, South Korea, and the Dominican Republic. Overall, there are about 608,000 living foreign-born veterans of the U.S. armed forces from nations around the world.
Many LPR service members are told by recruiters that they can quickly gain citizenship for themselves and their family after serving honorably. However, they are not advised that citizenship is not granted automatically and that they must actively seek citizenship through the standard (although expedited) application process. A 2016 report by the ACLU estimates that the United States has deported more than 230 veterans.
###
Nanette Diaz Barragán is proud to represent California's 44th Congressional District, which includes the communities of Carson, Compton, Lynwood, North Long Beach, Rancho Dominguez, San Pedro, South Gate, Walnut Park, Watts, Willowbrook and Wilmington.