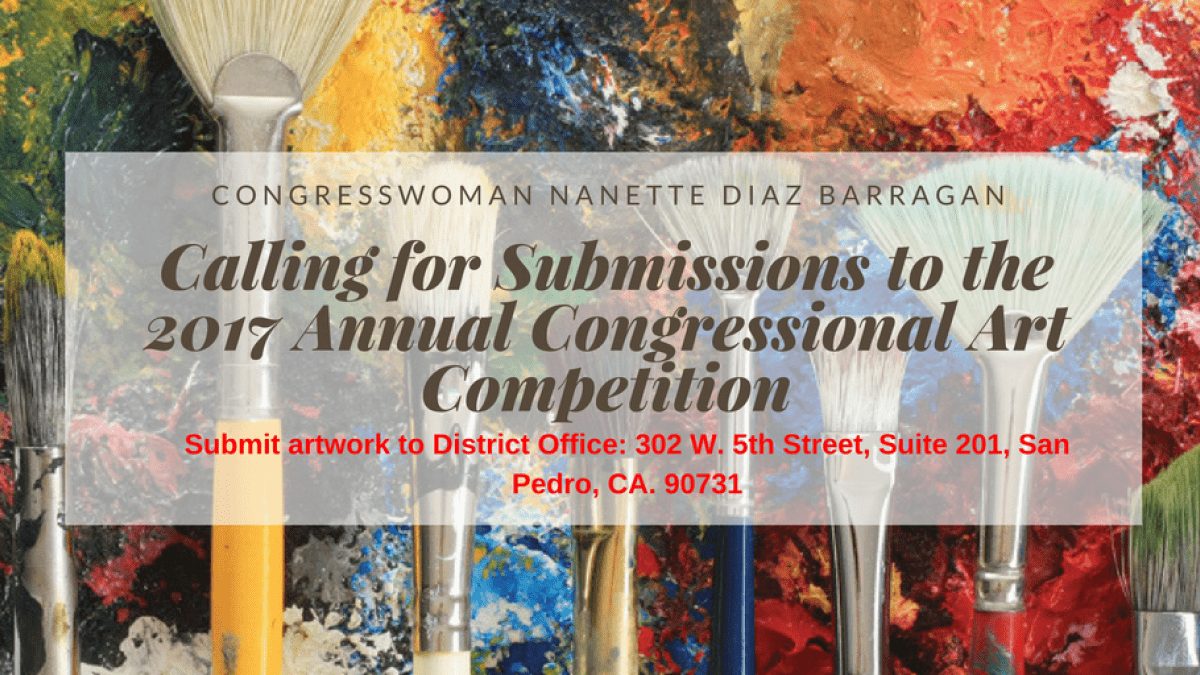 Winner's artwork to be displayed in U.S. Capitol; winner receives airfare for two to Washington, D.C. to view exhibit
SAN PEDRO, CA – Congresswoman Nanette Diaz Barragán announced that her office is accepting submissions for the 2017 Congressional Art Competition.
"I'm excited to see the artistic talent across the 44th District and I encourage all high school age students to consider submitting their artwork for the chance to have it showcased in our Nation's Capitol," said Rep. Barragán.  "Each day, when I walk down the hall to vote, I admire the artwork of last year's winners. I look forward to hanging a piece of art from our very own community."
The Congressional Art Competition is open to all high school students residing in the 44th Congressional District.  The winning piece will be on display for one year in the U.S. Capitol along with other winners from across the country.  The winner will receive two complimentary airline tickets to Washington, D.C. to view the exhibit and will also be invited to a reception for all of the winners across the nation.
The second place artwork will be on display in one of Congresswoman Barragán's district offices.
Artwork entered in the contest may be up to 26 inches by 26 inches, may be up to 4 inches in depth, and not weigh more than 15 pounds.
Paintings – including oil, acrylics, and watercolor
Drawings – including pastels, colored pencil, pencil, charcoal, ink, and markers (It is recommended that charcoal and pastel drawings be fixed.)
Collages – must be two dimensional
Prints – including lithographs, silkscreen, and block prints
Mixed Media – use of more than two mediums such as pencil, ink, watercolor, etc.
Computer-generated art
Photography
Background
The Congressional Art Competition is an opportunity to recognize and encourage the artistic talent in California's 44th District and throughout the country. Since it began in 1982 as an opportunity for members of Congress to encourage and recognize the artistic talents of their young constituents, over 650,000 high school students have been involved with the nationwide competition. For more information, please contact Barragán's office at (310) 831-1799 or visit www.barragan.house.gov for guidelines as well as the student release form.