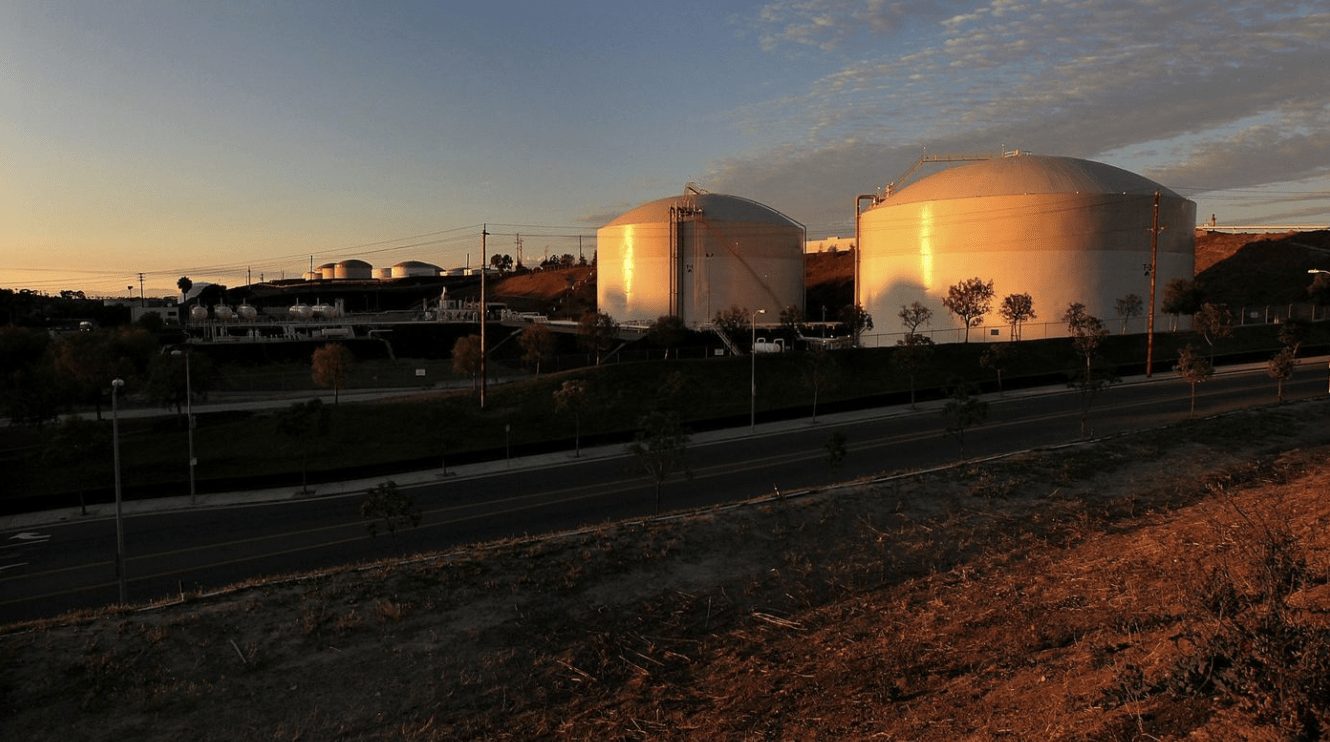 For years, San Pedro residents have agitated to remove the huge tanks that store butane on Gaffey Street, arguing that they pose a deadly threat to nearby homes and schools.
Now a congresswoman is trying to put federal money behind that cause, arguing that "the risk is too great should an accident occur."
U.S. Rep. Nanette Barragán (D-San Pedro) unveiled a bill this week that would help fund the relocation of such facilities away from homes and schools. The bill would authorize $500 million for a grant program that could pay up to half of the costs of moving the San Pedro site and similar facilities that store liquefied petroleum gas.
"These tanks don't belong in our backyards, and we can't just continue to ignore their existence," Barragán said in a statement announcing the bill.
Barragán said it was unclear how much it might cost to move the San Pedro tanks, although she had heard estimates in "the hundreds of millions."
With so little time left this year on the congressional calendar, it's unlikely the bill will gain much traction in the Republican-controlled House. Community activists and attorneys who have pushed to get rid of the San Pedro tanks have greeted the proposal with a mixture of hope and skepticism.
"It's just a bill," said Anthony Patchett, an attorney representing homeowners alarmed by the site. "But it's a step in the right direction. We're finally getting an awareness of how dangerous this is."
Whatever it costs to move the tanks, Patchett added, "it would be a drop in the bucket in comparison to the multibillion-dollar devastation that could occur."
Rancho LPG Holdings LLC, a Plains All American Pipeline subsidiary that owns the site, did not immediately respond to emails seeking comment. Former Los Angeles City Councilman Rudy Svorinich, who has represented the company as a lobbyist, also did not respond to phone and email messages.
Debate has simmered for decades over the risks of the San Pedro facility, which stores butane and a smaller amount of propane on private land close to the Port of Los Angeles. The Gaffey Street site includes two 12.5-million-gallon refrigerated tanks and five 60,000-gallon horizontal storage tanks that sit near homes, big-box stores, playing fields and schools.
State and local officials began to question its safety not long after it was built in the 1970s. A report from the California Public Utilities Commission questioned whether the facility could withstand a huge earthquake. L.A.'s fire marshal told The Times that the site was "one of our gravest concerns."
Residents fear that a gas leak triggered by a quake or terror attack could lead to fires and catastrophic explosions. One analysis, conducted eight years ago by a consulting firm hired by a San Pedro neighborhood group, found that in the worst-case scenario, the devastation from a blast could stretch as far as 6.8 miles from the facility.
Rancho LPG Holdings has sharply disputed such predictions. At public hearings and on its website, the company has pointed to other analyses that estimate a disaster would damage a much smaller area, extending half a mile around the site or an even smaller radius of 700 feet.
The facility "has been inspected and audited approximately 71 times by city, state and federal regulatory agencies with outstanding results" since 2010, company representative Ron Conrow said at a public meeting last year. He called the opposition "an attempt by a few misguided people to single out a small, compliant and lawful facility."
In the wake of a deadly pipeline explosion in San Bruno eight years ago, lawmakerscalled for more scrutiny of the site. Three years ago, the facility owner agreed to pay a $260,000 fine after the Environmental Protection Agency said it found safety and inspection lapses there, claims the company disputed.
Since then, opponents have been stymied in their battle against the facility. A federal board turned down an effort by San Pedro Peninsula Homeowners United to challenge its transportation of "hazardous materials" from the facility by rail. A state commission said it had no jurisdiction over the Gaffey Street facility and the attorney general agreed.
Los Angeles City Councilman Joe Buscaino, whose district includes San Pedro, said he backed the idea of getting federal funding to move the tanks. "It's the only viable solution given the city's limited jurisdiction over this matter," Buscaino said in a statement Wednesday.
San Pedro residents have bristled at such arguments from local leaders. "Everybody keeps pointing the finger at everyone else," said Janet Schaaf-Gunter, a member of San Pedro Peninsula Homeowners United, which pushed unsuccessfully for the Port of Los Angeles to yank a permit allowing the company to use a railroad spur track.
Schaaf-Gunter said she was grateful that the federal bill was drawing fresh attention to the San Pedro site, but questioned whether facility owners were willing to move even if government funding were provided.
Attorney Noel Weiss, who has raised concerns about the tanks, derided the proposed bill as a "bailout for private industry."
Even if the bill is passed, Weiss added, "who's going to come up with the other half?"
Buscaino said that if the federal government did provide half of the needed funding to move the San Pedro tanks, he would seek "matching state and local dollars." Barragán, in turn, said that limiting the federal share of the relocation costs was "the best chance of getting my colleagues on the other side to even look at the bill."
"The reality here is that the company is not going to be able to fully fund moving this facility.… Why wouldn't we invest in trying to provide safety to the community?" Barragán asked.
It is unclear how many facilities across the country might be eligible for such funding, the congresswoman said. Under the proposed bill, the money could be granted to liquefied petroleum gas storage facilities within five miles of a home, school or populated area.
Times staff writer Sarah D. Wire, in Washington, D.C., contributed to this report.